I had to update someone's Mac today, from 11.5.x to 11.6… the download kept failing inside the built-in updater, so I figured I'd go check if Apple still releases update packages on their website, for manual updates… and it seems they still offer those (but not for macOS Big Sur?).
But, what really surprised me, is that Apple also released Mac OS X Lion (10.7) and Mac OS X Mountain Lion (10.8) on that download page, in June 2021… About a decade after its original release date.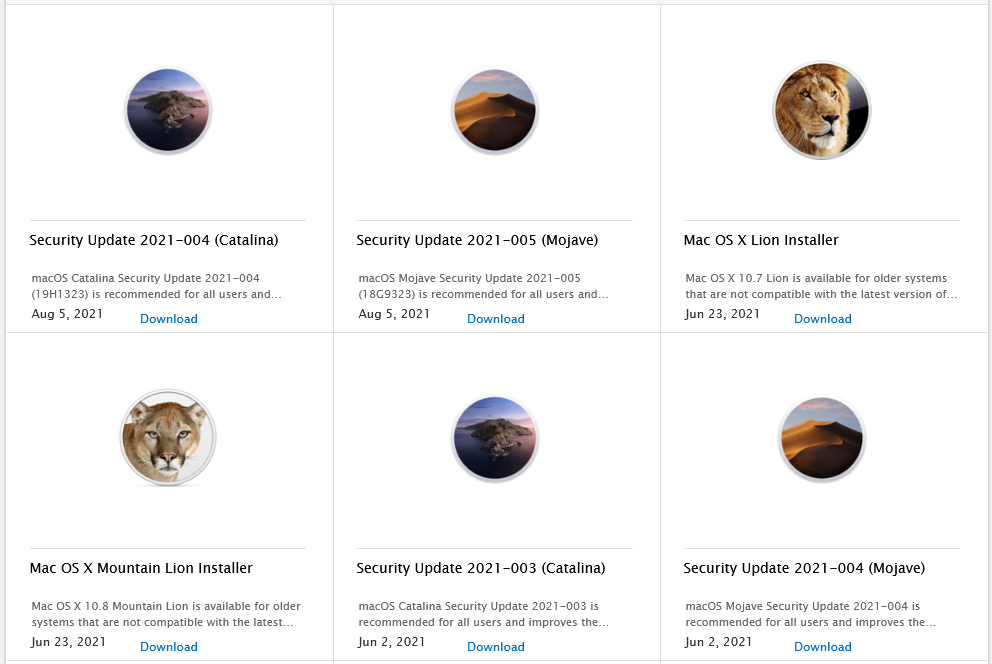 Mac OS X Lion (10.7) was released in July 20th, 2011 as an exclusive App Store download for US$29.99, meaning you required an Apple ID and a credit card to update (no CD/DVD was released).
Mac OS X Mountain Lion (10.8) was released in July 25th, 2012 also as an exclusive App Store download for US$19.99 (it got cheaper!), meaning you also required an Apple ID and a credit card to update, like with the previous year, Apple had stopped distributing optical media.
I have an old Mac mini from 2007 or so (not in use), which came with Mac OS X Tiger installed, and a Leopard DVD included for free. I had to buy a Snow Leopard DVD at some point to upgrade, and kept it at that for a long time (I still have that DVD!). After Lion was already not the newest anymore, I did eventually pay about 20 bucks for the App Store download to upgrade to 10.7, which was also the latest version of Mac OS X supported on that device.
Mac OS X Mavericks (10.9) was released in October 22nd, 2013, which was the first major Mac OS X release that was released for free. All you needed is an Apple ID to download it from the App Store (and contrary to popular belief, no, you don't need a credit card for an Apple ID).
But of course, you can't update to Mavericks (10.9) from any Mac OS X version, you need at least Snow Leopard (10.6 or newer), which is only available as DVD, or rather, was.
So, perhaps Apple released Lion and Mountain Lion for free now so that you can upgrade from older versions to then go for the free upgrade path? No wait, Lion also requires Snow Leopard or newer… so this theory doesn't hold up.
I really can't imagine a scenario where someone has an old Mac, that will be able to upgrade thanks to these releases, or at least not fully to the latest version, since any Mac that still runs Snow Leopard, probably can't run the latest version. I think it's probably great for retro devices, though? Or to finally upgrade to that sweet, sweet Lion for the price of free?
What's really interesting is, that these OS releases that were originally paid and required a Mac with App Store and Apple ID, are now made available publicly, for anyone, with direct download link in the browser, no Apple ID required. That's pretty cool.
I just wished that old Mac mini of mine could run Mountain Lion, so I could upgrade it for free now. 😜
Download directly from Apple
Mac OS X Lion

SHA256:DB0B2300DE719FA3E4EE132B55AFD4E689211AD5332760FE5FE7A30351C9E75C

Mac OS X Mountain Lion

SHA256:B006A6D63F20D0B369493469699D42D5CBCA91C295B40B273F6FE9EECA3484CE